Viet Nam NewsHÀ NỘI — Seven sculptors and ten painters from Spain, Singapore, Japan, South Korea and Việt Nam have been living and working together for an entire month. On October 28, they will open their studio at Flamingo Đại Lải Resort in the northern province of Vĩnh Phúc to the public.
The artists, ranging in age from 32 to 81, have had independent working processes, which audiences will understand when they see the diversity of the works on display. The residents of the project, called Art in the Forest, were assigned no subjects and given no limit. They have been free to create, find inspiration and decide the scale for their works.
Veteran painter Nguyễn Quân, 79, said the absolute freedom of Art in the Forest is its most distinctive feature.
"Visitors will be impressed as the artworks reflect different angles of life and art concepts," he said.
They'll also be able to contemplate artworks at the place they were born.
"Audiences will not only see a painting on the wall but also the space which inspired the artists and influences their emotion," he said.
Painter Vũ Hồng Nguyên, art director of the project, said the artists have been given the best possible working conditions. They have separate workspaces, materials, assistants and devices to create whatever they choose, including giant sculptures weighing tonnes.
image: http://image.vietnamnews.vn//uploadvnnews/Article/2017/10/19/100917_5362851626PM.JPG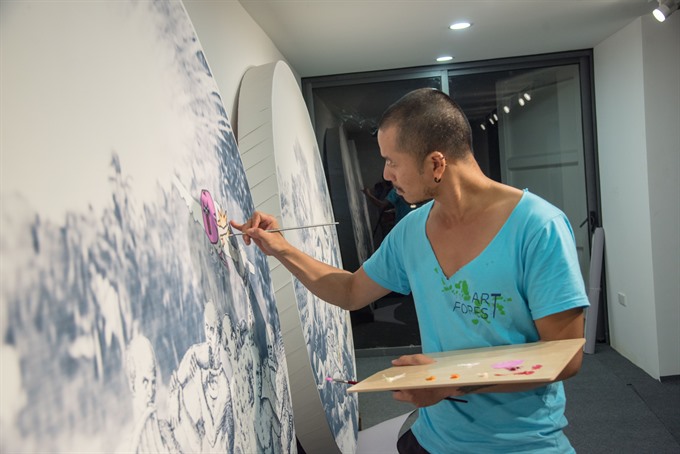 Sylvan inspiration: Painter Tuấn Mami works at his studio located in the forest. — VNS Photo Minh Thu
Big place
Sculptor Vũ Bình Minh is well-known for his collection of iron sculptures in the shape of clouds, rain, lightning and thunder. But thanks to the Art in the Forest Project, he has the chance to create large-scale artwork, something he's never done before.
"Before, all of my sculptures are at small and medium size," he said. "I couldn't afford to make a big one, and it's not easy to find an exhibit place for it."
He will present audiences with Summer Cloud, the iron sculpture weighing 28 tonnes, symbolising the energy of the nature. The artwork will be displayed at the outdoor space of Flamingo Đại Lải Resort, along with the other artworks produced by the resident artists of the Art in the Forest project.
"My artwork is covered with layers of rust preventive paint to preserve it in the outdoor space," he said.
image: http://image.vietnamnews.vn//uploadvnnews/Article/2017/10/19/100617_920351628PM.JPG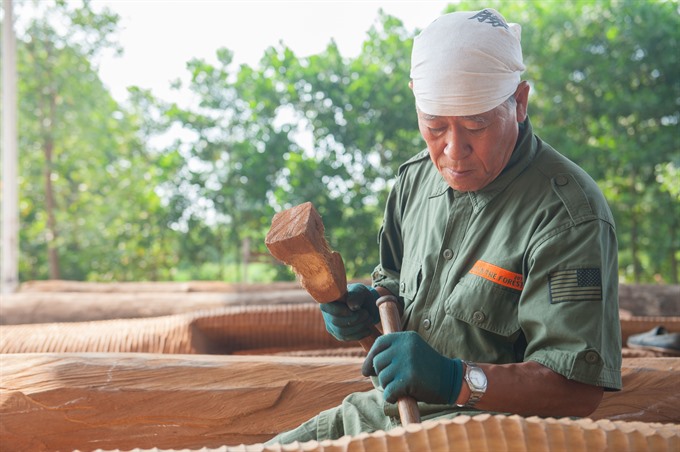 Returning resident: Japanese artist Katsumi Mukai works on his sculpture. — VNS Photo Minh Thu
Last year, Japanese sculptor Katsumi Mukai, 81, impressed audiences with his 26-tonne artwork Forest of Sunlight, made from ironwood and inspired by nature.
This time, he will present another wood sculpture entitled Family, inspired by people.
"I have joined international creating camps and exhibitions. I have met many people. Anyone I meet is a mirror for me to look at myself and career," he said. "I create on the basis of what I see and feel."
From October 28 to November 6, various cultural activities such as concerts, art tours, painting classes and Halloween mask making will celebrate the opening. The artwork will be displayed at the resort for at least six months. The artists hold the copyright for their works. — VNS